Bonus Program Has Been Extended Through December 31, 2022
Don't leave money burning in the ashes!
Heartland National is ready to help you, and your wallet Kick Ash!  The Heartland National bonus promotion has been extended for the remainder of 2022.  If you aren't contracted then you are leaving money on the table!
Kickin' Ash Bonus:
An additional $300 per underwritten Medicare Supplement
No minimum application requirement!
Bonus not paid on Guaranteed Issue or Open Enrollment applications
Bonus will be paid on the 15th of the following month.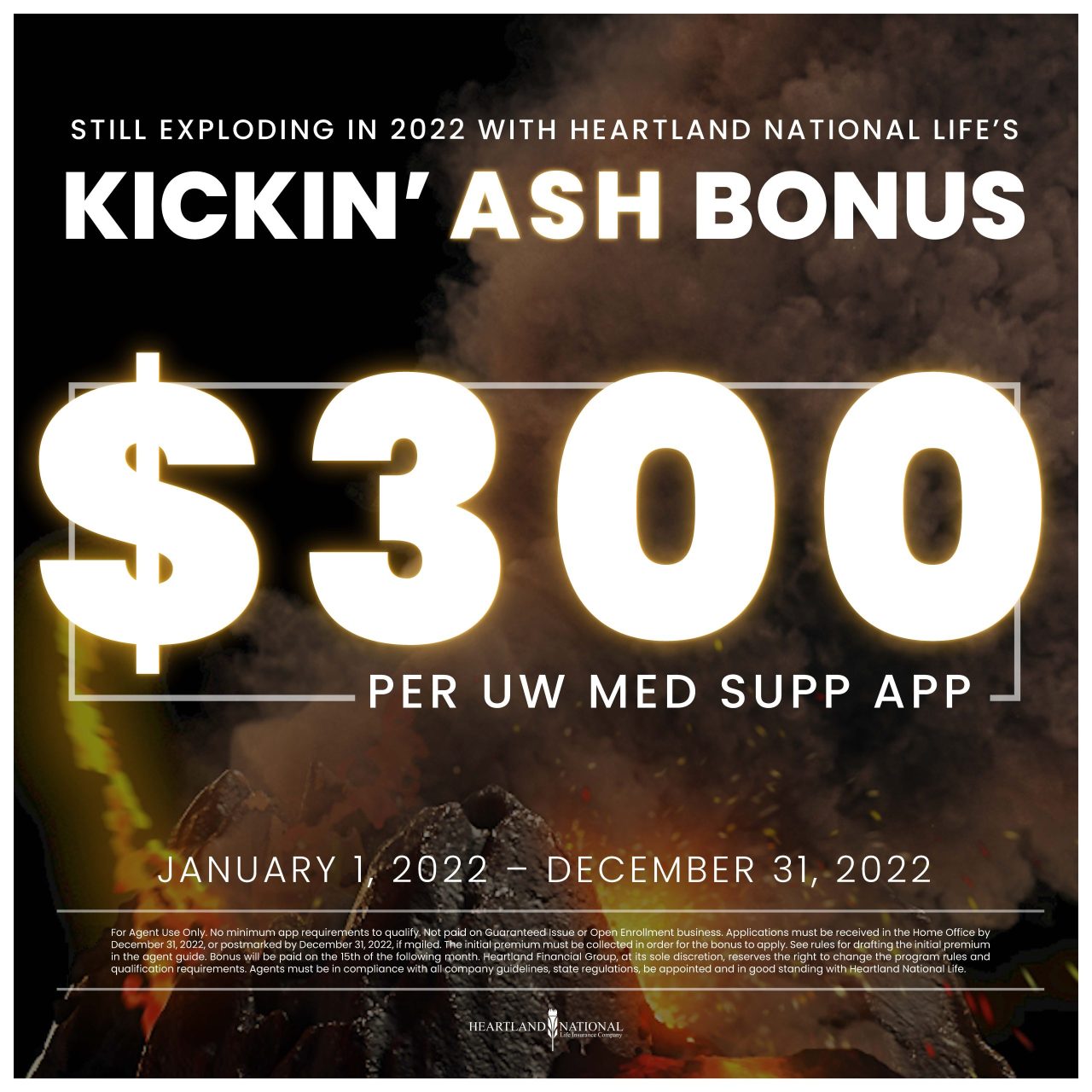 About Heartland National
Heartland National Life Insurance Company started in 1994. Currently, Heartland distribution network sales at over 20 million, making Heartland one of America's leading Senior Health/Life Insurance distributors. Heartland National Life provides quality insurance products and unsurpassed service to their policyholders. In addition, Heartland offers products that are affordable, easy to sell, generous commissions, quick policy issue, paid weekly commissions and 12 month advancing.
Medicare Supplement Product Notes
Guaranteed Renewable
Simplified Underwriting
Quick application processing
Claims usually paid in 5 days
Friendly E-app available
Household Discount
Heartland offers a 7% discount for anyone applying who lives with a spouse or partner in a civil union.  Applicants who lived with another adult for the last 12 months will qualify for the discount. For residents of Ohio or Pennsylvania, the discount is only available if you live with another person who also has a policy with Heartland National Life.  Residents of North Dakota can take advantage of the discount if they live with any other adult family member who also has a policy with Heartland National Life
State Availability
Currently available in Ohio, Pennsylvania, West Virginia, North Carolina, South Carolina, Iowa, North Dakota, South Dakota, Delaware, Maryland, New Mexico, Illinois, Colorado, Arizona, Arkansas, Missouri, Utah, Montana and continue to add more.
Already Appointed with Heartland National?
Check your current production by clicking here.
Turn Your Business into Summer Cash
There's no limit on how much you can earn through the Heartland National Bonus!
Contract With Heartland National
Complete your contracting today with our online Express Contracting! – Click Here – to get started!
---
Contact Senior Benefit Services, Inc.