When you're considering a long term care insurance policy, it's important to look for a company that is committed to the long-term care market. Mutual of Omaha has been selling long-term care insurance since 1987.
It's also important to look for a company that is stable and financially sound. Mutual of Omaha has been in the insurance industry since 1909. And their strength and financial stability are confirmed by continually high ratings from leading industry-rating organizations.

Underwriting Style: STANDARD
Rating: AM Best: A+
Assured Solutions Plus
Product Description

Built-in monthly cash benefits option that allows policyholder to pay family & friends
Up to 300% Paid for Professional HHC services!
5 year rate guarantee that can be extended up to 10 years
10 pay, 20 pay, and pay to 65
Ten inflation options!
Riders include: Shared Benefit, ROP, Waiver of HHC elimination period, and more!
Double Benefits & Return of Premium for under age 65 built into base policy. If you sell to the younger market, then you need this plan in your portfolio.
Software contains proposal system and underwriting guidelines.
Agents have full online accessibility to production, placed and pending status of apps.
Employer group and association.
Top agent and agency contracts available.
Multiple Rate classes available.
Software Screenshot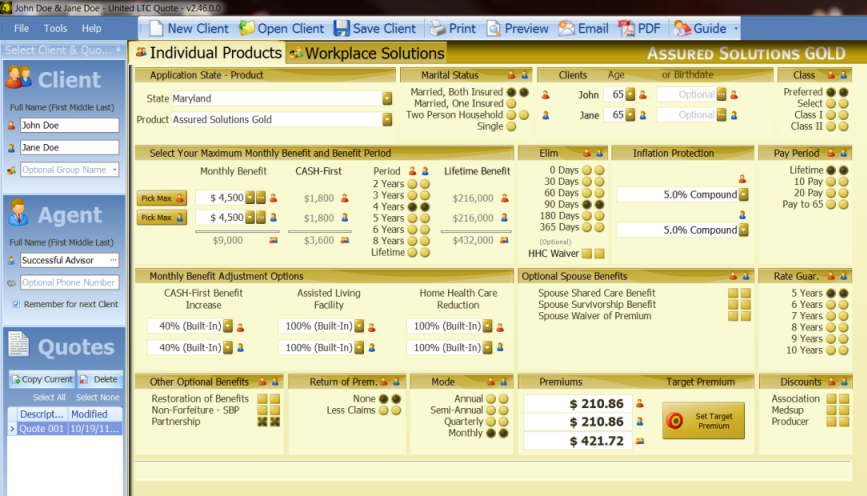 FREE Online Continuing Education just for contracting.
Access to purchase the LTC CEOprogram for only $49.95 rr get it at NO COST for only submitting one Assured Solutions applicationThis Cutting Edge Software Will Help You Through Every Phase of a Long-Term Care Sale