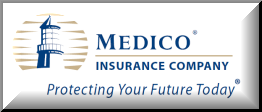 Medico Insurance Company began operations in 1930. Their goal is to provide the policyholders with the products they need, and the service they deserve. Medico understands that insurance is about more than the details of a policy; it's about protecting your future, and protecting your family.
Download Rates Download Contract
Why is Dental, Vision, & Hearing coverage important to your clients?
Medico understands that your clients teeth, eyesight, and hearing are a part of their quality of life; unexpected problems can be painful, inconvenient, and expensive! Medico wants to make it possible for your client to find an affordable way to protect these assets.
Product Highlights
Avaiable ages 18 – 89
No Network – Choose any provider
$1,000 & $1,500 Policy Year Benefit options available
Guaranteed Issue – No Health Questions
Benefits
Once the $100 Policy Year Deductible is satisfied, your client's policy pays for covered expenses, not to exceed Reasonable and Customary Charges, up to the Policy Year Maximum:
60% – First Policy Year
70% – Second Policy Year
80% – Third Policy Year and thereafter