As a starting point let's sketch out the process that you, the agent, would go through prior to requesting appointment with a carrier for a specific product.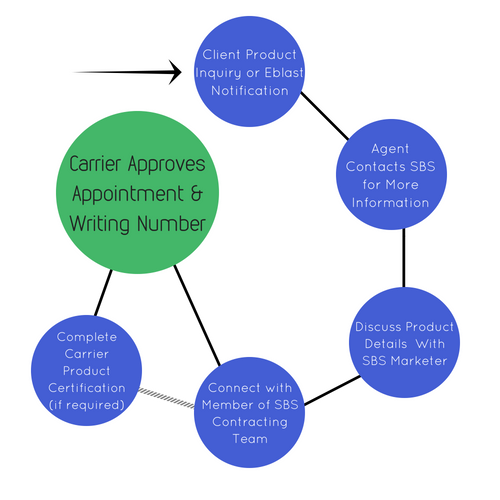 The question in the title of this blog is just one of the common questions our Contracting Team gets during the onboarding process.
The short and sweet answer is, " it depends", as there are some nuances that tend to muddy the water.
So, to help you better understand the process, I took the liberty to interview the most seasoned members of our Rockstar Contracting Team. Below are the top three questions they receive from agents on a regular basis.
Q:  I Submitted My Express Contracting, When Will I Hear Something?
A:  The appointment process does take a little bit of time but really doesn't begin until you submit our Express Contracting in good order. Once this initial step is complete, the full contracting for your requested carrier is completed and documents are sent via secure email directly to you for review. If there are no changes to your completed carrier contracting then we'll submit the documents to the carrier for you. A member of our Contracting Team will contact you via email as soon as appointment is complete. As a final step at this stage we email your writing number, order carrier supplies (where available), and send along any other related carrier information.
 Q:  How Long Does It Take to Get Appointed?
 A: This varies by carrier but on average can take between 7-10 business days. Some carriers respond the next business day, others three to five business days, and others up to 15 business days (we're not naming names!). It's important to know as well if the carrier you are requesting requires product certification prior to completing the appointment process. So, the length of time is sometimes dependent on the engagement of you, the agent.
Of particular note, background checks have a tendency to slow down, and sometimes even stop, the appointment process.
Carrier responses to these issues vary as they will either communicate with someone in our Contracting Team or communicate directly with the agent for clarification. It is also true that carrier backlogs, particularly in and around AEP can delay your appointment.
The best advice that our Rockstar Contractors can give is to be patient, yet diligent, and know they too want you selling.
 Q: At What Point Can I Write an App?
 A: The answer to this question also varies by carrier and/or state as some carriers accept business before appointment and others require an approved writing number. And even when a carrier accepts applications before appointment, some states require the agent to be approved in the state before business is submitted. Our Marketers will discuss this issue during your initial product inquiry call. In the event applications can be submitted prior to your appointment and writing number being issued, your trusty Marketer will help you get jumpstarted by emailing the required forms to you directly. We understand it's frustrating there isn't a blanket answer. So if you have an application to submit be sure to mention that to your marketer as we work together to get you appointed. In the past, some applications were submitted "too early" and the carrier declined the application leaving the client without coverage. Or, some carriers (still not naming names) issued the application but did NOT acknowledge the agent as Agent of Record (which means they did not get paid!).

As referenced earlier, completing the carrier certification, acknowledging that you understand the product's features, benefits, and intended use is critical to a more efficient turnaround time for appointment.
Continued success with your summer selling! Speaking of summer selling (and Marketers) check out this blog from beloved "Marketing Queen" Juliane Morey for tips to fight the "Summer Slump"!