The insurance business is known more for its miles of paper trails rather than saving acres of trees. Millions of paper applications are being processed every year and while this is still how the majority of business is written, insurance companies are noticing a change in the status quo. To keep up with the new technology and mobility of insurance agents, carriers are now creating electronic applications.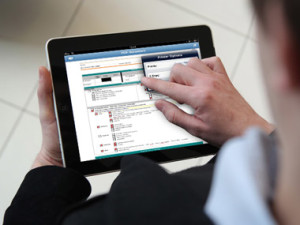 You've probably heard about electronic applications or E-Apps but haven't really looked into them. The E-app was created to benefit both the company and the agent. The company saves money on paper and also creates more mobility for the agent. With the E-App, the agent will be able to save time and complete the application faster for the client, while helping expedite the issuing of the policy. Other benefits include fewer mistakes on the application, no more missed forms, and quicker communication between the carrier and agent.
Recently more companies are stepping up to the plate and offering E-Apps. Copies of the completed application then can be sent to both client and agent via email and in some cases policies can be issued instantly. There are even carriers that created an iPad app for their products. One carrier in particular is having great success with their iPad app where agents fill out their client's application in minutes to have the policy issued instantly!
Another tip to decrease the turnaround time is to encourage your client to pay premiums using monthly automatic bank draft. With this payment method a policy can be issued faster and sometimes the company offers a discounted rate. This all goes back to the company going paperless…not just for the trees but for a faster, more efficient business relationship.
Contact Senior Benefit Services today to find out what carriers are offering E-Apps.