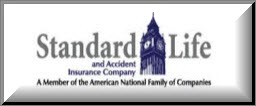 Standard Life Medicare Supplement plans are a part of the American National Family of Companies. Many of the standardized Medicare Supplement plans are offered by Standard Life, depending on state availability.
Request Rates
Download Contract
Why Standard Life?
Standard Life is one of the nation's largest and most experienced providers of insurance for senior citizens. The Company is highly rated and has a well-established history of developing products to help solve the problem of the high cost of medical and hospital expenses not covered by traditional Medicare.
"Quick Response" Claim System
Based on years of experience helping older Americans manage health expenses, Standard Life has developed procedures to streamline and simplify claim payment. Our computerized system allows us to work directly with Medicare providers throughout the United States, in most cases reducing the time it takes to get claims paid and limiting your need to get involved in the process.
 States that Senior Benefit Services Inc. Serves
| | | | |
| --- | --- | --- | --- |
|           Alabama |           Arizona |          Arkansas |            California |
|          Colorado |         Connecticut |          Delaware |              Idaho |
|            Florida |           Georgia |             Iowa |             Kansas |
|            Illinois |           Indiana |            Maine |             Maryland |
|          Kentucky |          Louisiana |         Minnesota |            Mississippi |
|        Massachusetts |           Michigan |         Nebraska |             Nevada |
|           Missouri |           Montana |        New Mexico |            New York |
|      New Hampshire |        New Jersey |             Ohio |            Oklahoma |
|       North Carolina |       North Dakota |        Rhode Island |         South Carolina |
|           Oregon |       Pennsylvania |            Texas |               Utah |
|       South Dakota |        Tennessee |        Washington |          West Virginia |
|           Vermont |           Virginia |          Wisconsin |            Wyoming |
| | | | |