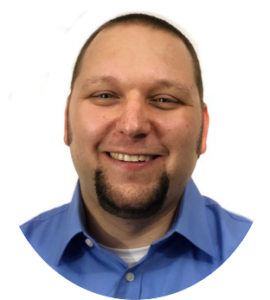 Favorite quote: "Whenever I'm about to do something, I think, 'Would an idiot do that?' and if they would, I do not do that thing." — Dwight Schrute, "The Office"
What is something within the healthcare industry you want to fix? There is an overwhelming amount of information in our industry and almost just as much misinformation. All of this creates a ton of confusion for agents and clients alike! With everything we create we try and give our audience the info they need in a way that is accurate, helpful, concise, and easy to understand.
What do you do at Senior Benefit Services? I work in the Marketing Department where I wear a ton of different hats: website designer, video editor, graphic designer, trainer, and spreadsheet maker to name a few. Most of my work is done behind the scenes with only the end result being visible. This allows me to make a giant mess as I build things and then make sure everything is cleaned up and in good order when the curtain is opened. For example, you are reading these bios, on a page I built and posted online – thankfully, you're seeing the finished product!
What do you like about working at Senior Benefit Services, Inc.? Senior Benefit Services is not some enormous corporation where you show up every day and have no idea who else you are working with. The work you do (or don't do) isn't hidden and can be seen and felt by everyone else you're working alongside. Thankfully, Senior Benefit Services is made up of a group of dedicated individuals that strive to make themselves and the company they work for a better place for each other and the clients we serve.
What's your background? I grew up less than two miles away from our Corporate Headquarters in Hagerstown, in a house my parents still live in. I attended Shippensburg University (PA) where I studied Marketing and General Management. After college I returned home and worked in retail management before transitioning to an advertising sales position with a local television station.
What values drive you? Dedication and hard work go into everything I do. At the end of the day everything I've done has my name on it. From a very young age I was taught to always be proud of the work you've done, and to never be ashamed to have your name attached to something.
What activities do you enjoy doing when not at work? My wife and I have a daughter and son that keep us very busy and very entertained! When I'm not reading books with my daughter or playing dinosaurs with my son you'll find me listening to music, enjoying delicious food and drinks, playing with technology, or unplugging to spend time outdoors.