Spotlight on Dental – Coverage People Want
Did you know that dental insurance is the most often requested supplemental benefit? Yet nearly two-thirds of Medicare enrollees don't have it. That gives you an opportunity to provide added value to your Medicare-age clients.
Mutual of Omaha offers two policies that cover most dental services — from preventive services like routine cleanings and X-rays to major services like crowns, dentures, bridges and root canals. Our policies help your clients pay for the dental care they need with the confidence of knowing what their out-of-pocket costs will be. This chart compares out-of-pocket costs for people with a dental insurance policy to those with no insurance.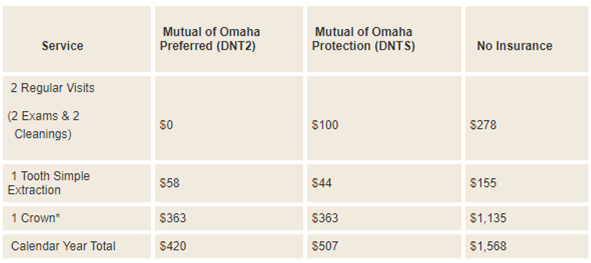 *Assumes the 12-month waiting period has been met.
Contact the Marketing Department to Learn More About Mutual of Omaha's Dental Plan!
---
More Information

Contract With Us
Email Marketing