Enrollment Periods Explained
Universal Enrollment Periods
Annual Enrollment Period– This is the period from October 15 to December 7 when people can switch from Medicare Advantage to Original Medicare plus enroll in a Medicare Part D plan and apply for a Medicare supplement policy. Current Medicare supp policy owners do not need to take any action — coverage continues as long as premiums are paid on time.
General Enrollment Period-Every year from January 1 – March 31, people who didn't enroll in Medicare during their Initial Enrollment Period and are not eligible for a Special Enrollment Period may enroll in Original Medicare during this time. Please note there will likely be late enrollment penalties.
Individual Enrollment Periods
Initial Enrollment Period (IEP)– The seven-month period when clients first can enroll in Medicare (three months before they turn 65, the month of their birthday, and the three months afterward).
Special Enrollment Period (SEP)– A time other than the Annual Enrollment Period or Initial Enrollment Period when people may join, change, or drop a Medicare plan. An SEP can be triggered by certain events such as a change in residence or leaving an employer's group plan. Rules about when you can make changes and the type of changes you can make are different for each SEP.
Enrollment Periods at a Glance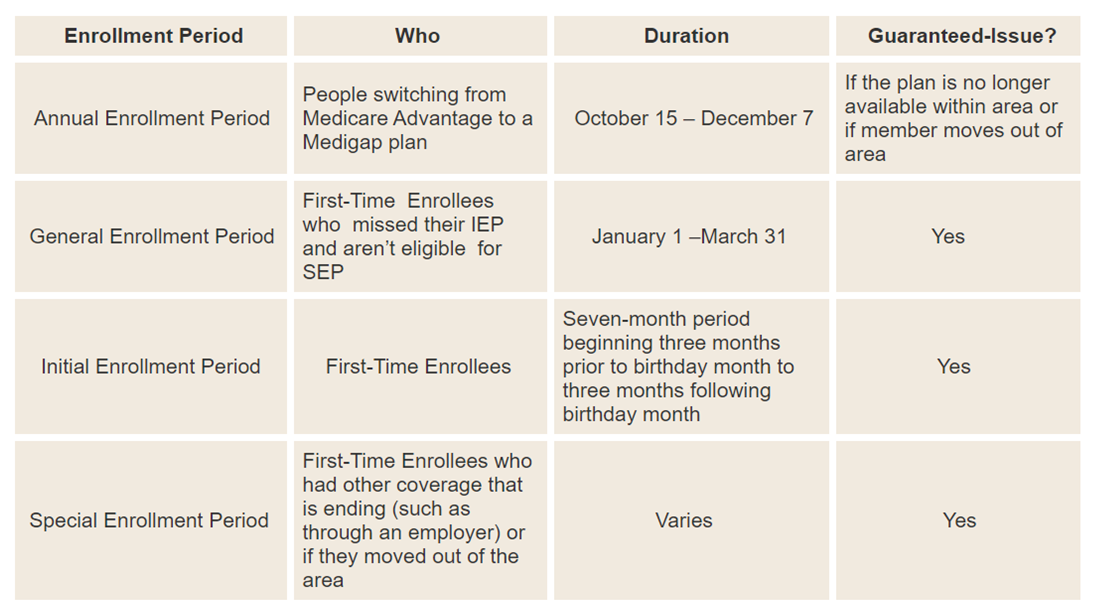 Keep in mind, these are general guidelines and do not capture every situation possible, as it is nearly impossible to do here. These guidelines provide popular situations your client may be experiencing.
---
More Information
Email Marketing
Contract With Us