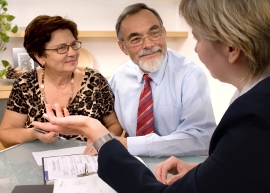 As we mentioned in our previous article, the most effective source of solid leads is your existing client base. Once you sell a policy to a prospect, chances are you have gained trust with them. So why not ask for referrals? Many agents simply don't ask for referrals or don't know how. Below are a few pointers to keep in mind when looking for referrals.
Asking for Referrals
Whenever a customer compliments you respond with a thank you and quickly followed by a referral request. For example, "I'm so pleased you're happy with my work. Do you know anyone else who can benefit from my services?" Make sure to hand them 3 business cards, 1 for them and 2 for friends or family members that could use your services. If they are not comfortable with referring someone then ask for a testimonial for your service.
Make it a Habit
Use every appointment as an opportunity to collect referrals. To keep yourself on track, jot a reminder down and make it one of your standard talking points. Eventually you'll make the referral conversation a part of every appointment you have. As we previously mentioned, the easiest way is in your closing conversation with your client.
Incorporate a Web Presence
With more seniors using the technology there are other ways to ask for customer referrals beyond face-to-face or telephone conversations. If you have the client's email address you can follow up in an email to make sure that they are satisfied, and in the process, ask if they would refer your business to others. Also remember there are 3rd party websites such as Yelp and Insider Pages that gather customer reviews. The new online tools allow you to incorporate customer feedback or testimonials onto your website, where potential customers can read those reviews before contacting you.
Recognize and Thank Your Referral Sources
This seems obvious, but so many agents forget about this extra step. Thank your client for the referral by sending a hand written note or gift as a thank you. The important thing is to express your appreciation to encourage additional referrals for the future.
Inc.com Staff. "How to Get Customer Referrals." Inc.com N.p.,27 Aug. 2010. Web
 Silverstein, Ray. "Get More Referrals by Asking." Entrepreneur. N.p., n.d. Web.